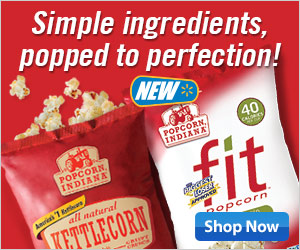 Summer is just about here and that means the boys are outside playing more and they will start staying up a bit later at night.
One of our favorite things to do is have movie nights 🙂 I try really hard to have healthy snack options in the house and I was surprised to see all the different varieties that Popcorn Indiana has to offer.
They are made of simple ingredients popped to perfection. I am actually excited to try the Fit variety…there are only 40 calories per cup!
You can find Popcorn Indiana at most of your favorite stores, at Walmart it is priced at about $2 to $2.50 per bag. That's a great price for a snack. Make sure you check out all the varieties before you head to the store, so you know what ones you want to grab 🙂